You Can Help Connect Minnesotans To The Arts!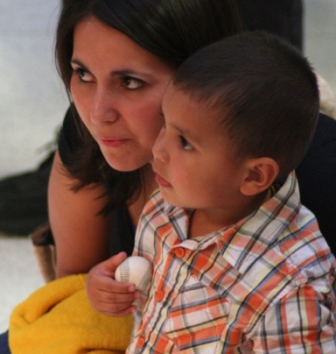 This tiny Minnesotan is Armando. He is watching an artist from the American Association of Woodturners make him a brand new wooden top at Sample Night Live. Armando just finished exploring his goody bag. You can tell because he is holding his new ball in his right hand. Sample Night Live believes moments like this are important. The arts are magical. Children remind us that it is important to keep exploring the magic. Sample Night Live believes this, too. The first Wednesday of select months, Sample Night Live features a dozen ten-minute samples of high-quality Twin Cities arts events, with a visual arts installation in the lobby at the Weyerhaeuser Auditorium in Saint Paul. Attracting Generation X and Millennial audiences, the company offers a diverse feast of G-Rated entertainment in Act I and uncensored art in Act II. Sample Night Live provides a venue for exceptional artists to show off their material, a place for quality companies to market themselves to a young, new audiences, and an inexpensive way for everyone to get a taste of what is going on in the Twin Cities. Audiences use the playbill to opt-in to the mailing list of the groups they love and have the opportunity to mingle with the artists during the after party. Sample Night Live has provided more than 6,000 email addresses of new fans to over 400 arts organizations, and was named in the prestigious Minnesota Monthly's "Best of…" issue.
Thank you to our amazing donors!
$50,000 and above
Saint Paul Cultural STAR Program
Metropolitan Regional Arts Council
$25,000 to $49,999
Ecolab, Inc.
The Saint Paul Foundation
$10,000 to $24,999
F. R. Bigelow Foundation
Barbe and Eric Hansen
VSA Minnesota
$5,000 to $9,999
The Travelers Companies, Inc.
$1,000 to $4,999
Archie D. and Bertha H. Walker Foundation
Nancy and Fred Dietze
Judy and Ronald Marshall
Marilyn and Rod Marshall
Minnesota Historical Society
Padilla Speer Beardsley Inc.
Greg Vanselow
Western Bank
$500 to $999
Brandon Baker
Jen and Brian Johnsen
Rod and Marilyn Marshall
Jeff Peterson and Jill Catherwood
Rhen Marshall, Inc.
$100 to $499
John, Jr. and Sage Cowles
Steve and Coleen Ebner
Rachel Flynn
Greta Grosch
Don McGuire
Meredith Model &
Talent Agency
Nancy Pajunen
Linda and Peter Quinn
Shona Ramchandani and
Matthew Sherman
Tom Reed
Bill and Susan Sands
Darren and Kimberly
Schaufenbuel
Kurt Schultz
Richard Shields
Steve Soler
Noel and Rhianna Stave
Pam and Wally Swanson
Megan and Tom Tarnow Family
Andrew and Corinna Troth
Betsy and Kevin Vanselow
Kathrine Walter
Will Weisert and
Brenda Cornelius
Mary Wright
Up to $100
Christina Akers
Brian Alexander
Barbara Ashton
Jeanne and Marvin Bartlett
Kathryn Bierman
Christine and Richard Brandt
Linda Brown
Ronai Brumett
Jeff Bullerman
Ben and Heidi Chadwick
Hiram and Liz Cochran
Mary Cochran
Brenda Cornelius and
Will Weisert
Sam Crosby
Norajean Crowley
Lisa Dahle
Corey de Danann
Sandra Derheim
PJ Doyle
Katie Driscoll
Rolf Erdahl
Ronelle Ewing
John Fax
Danielle and Michael Ferrin
Laurie Flanigan-Hegge
Jeanette Fordyce
Ann Forstie
Lynn Glesne
Peter Goedert
Greta Grosch
Clarence Hansen
Doug Hill
Laura and Jeffrey Humphrey
Jean Iwen
Maureen Jackson
Ann Jalonen
Shauna and Randy Johnsen
Haley Johnson
Sue and Larry Kappenmann
Beth Kelly
Laurel Lapore
Jerry Lee
Jonathan Liang and
Jennifer Gavin Liang
Ann Elizabeth Ly
Jamie Macpherson
Paula Manzuk
Sandy and Steve Meyer
Dan Moore
Torsten Muller and
Beth Gauper
Philip Noyed
Margaret Olson
Jeanne Papin
Janis Peabody
Amy Pfankuch
Dale Pfeilsticker
Amber Preston
Bill and Kitty Pursley
Jennifer Rumble
Tess Samudio
Ellen Schneider Wilson and
Anthony Wilson
Jarrod Schoenecker
John Schomaker
Deb and Steven Schultz
Connie Shaver
Barbara Shelton
Tonia and Neil Anthony
Shupien
Kathleen Spehar
Chuck Steffel
Dan Steiskal
Kathy Steiskal
Doug Tiede
Laura Toth and Rashelle Brown
Tiffany Tripp
Joe and Jennifer Weismann
Lisa Westmiller
Kristin Wiegmann
Laura Williams
Todd and Kimberly Williams
Cindy Windau
Maria and Roger Wolfsteller
Abby Zimmer